---
---
OFFICIAL PETITION FOR RECALL
BY POLITICAL EXTREMISTS SUPPORTING PRESIDENT TRUMP'S HATEFUL ATTACKS ON CALIFORNIA AND WHO DEMONIZE CALIFORNIA'S PEOPLE AND ATTACK CALIFORNIA'S VALUES.
TO THE HONORABLE SECRETARY OF STATE OF CALIFORNIA. Pursuant to the California Constitution and California election laws, the undersigned registered and qualified
electors of the State of California, respectfully state that we seek the recall and removal of Gavin Newsom holding the office of Governor of California. We demand an election of a
successor to that office. The following filed Notice of Intent to Circulate Recall Petition was served on February 20, 2020 to Governor Newsom.
TO THE HONORABLE GAVIN NEWSOM: Pursuant to section11020, California Elections Code, the undersigned registered qualified voters of the State of California, hereby give
notice, we are the proponents of a recall petition and we intend to seek your recall and removal from the office of Governor in the State of California and to demand election of a
successor in that office.
The grounds for this recall are as Follows: Governor Newsom has implemented laws which are detrimental to the citizens of this state and our way of life.
Laws he endorsed favor foreign nationals, in our country illegally, over that of our own citizens. People in this state suffer the highest taxes in the nation, the highest homelessness
rates, and the lowest quality of life as a result. He has imposed sanctuary state status and fails to enforce immigration laws. He unilaterally over-ruled the will of the people
regarding the death penalty. He seeks to impose additional burdens on our state by the following; removing the protections of Proposition 13, rationing our water use, increasing
taxes and restricting parental rights. Having no other recourse, we the people have come together to take this action, remedy these misdeeds and prevent further injustices.
The printed names of the proponents are as follows: 1.Orrin E. Heatlie, 2.Dan Seoane, 3.Michael Netter, 4.Rennie James, 5.Robin McCrea, 6.Christine Abercrombie, 7.Gregory
Fougerousse, 8.Jeanne Fougerousse, 9.Linda L. Marshall, 10.Eric Westman.
GOVERNOR GAVIN NEWSOM'S ANSWER TO RECALL STATEMENT: WARNING: THIS UNWARRANTED RECALL EFFORT WILL COST CALIFORNIA TAXPAYERS 81
MILLION DOLLARS! IT IS BEING PUSHED BY POLITICAL EXTREMISTS SUPPORTING PRESIDENT TRUMP'S HATEFUL ATTACKS ON CALIFORNIA. In 2018 California
voters elected Governor Gavin Newsom by historic margins. As Governor, Newsom is working to 1) increase funding for public education, 2) protect and secure Californians' health
and health care, 3) improve water, roads, and bridges, 4) address the challenges of housing affordability and homelessness, and 5) prepare for the threats of wildfires. Our budget
is balanced. Our fiscal reserves are unprecedented. Our economy and employment are historically strong. Yet a handful of partisan activists supporting President Trump and his
dangerous agenda to divide America are trying to overturn the definitive will of California voters and bring Washington's broken government to California with this recall effort. The
last thing California needs is another wasteful special election, supported by those who demonize California's people and attack California's values. Do not be fooled – California's
police officers, firefighters, first responders, public school teachers, health providers, and business leaders all STRONGLY OPPOSE this costly recall. DO NOT HAND OVER
YOUR SIGNATURE, YOUR SUPPORT OR YOUR PERSONAL, PRIVATE INFORMATION TO THIS DESTRUCTIVE RECALL SCHEME. /s/ Governor Gavin Newsom, State
Capitol Building, 1st Floor, Sacramento, California 95814
---
RECALL OPPONENTS
Stacey Abrams: "Governor Newsom has courageously led California through a global pandemic — putting health, science and equity at the center of the state's response. Republicans fought him every step of the way. Now, they are trying to overturn his election. Californians must stop the Republican recall."
Senator Alex Padilla: "As California has faced a series of unprecedented crises, Governor Newsom has led boldly. While Donald Trump chose chaos and conspiracy theories over science and COVID response, Gavin Newsom worked to ensure the safety and welfare of every community, especially those hardest hit by the COVID-19 pandemic. The same Republicans who refused to hold Donald Trump accountable for the deadly insurrection of January 6th are now trying to hold Governor Newsom accountable for the failures of Donald Trump. The recall effort is partisan, reckless, dangerous, and will only serve to distract from the critical work of seeing our state through the pandemic and into economic recovery."
Senator Bernie Sanders: "Right-wing Republicans in CA are trying to recall Gavin Newsom for the crime of telling people to wear masks and for listening to scientists during COVID. Extremist Republicans have done enough to undermine democracy already. We must all unite to oppose the recall in California."
Senator Cory Booker: "Gavin Newsom has shown the nation what courageous leadership looks like during the pandemic. He's made tough calls that kept Californians safe and helped them recover financially. Defeating this cynical, Trump-fueled recall effort will be one of the most important priorities for Democrats this year."
Rep. Katie Porter: "From the start of the pandemic, Gavin Newsom has taken swift action to keep families safe and help them recover financially. That's what makes this Republican recall so dangerous. It's not just a waste of time and money that could be used to fight COVID-19 — a successful recall risks slowing down our state's efforts to end the pandemic as quickly as possible."
Rep. Ro Khanna: "This will be one of the most important races for Democrats this year. Having served California and the Democratic Party for decades with a commitment to Democratic values, Gavin Newsom is facing a pro-Trump, Republican recall. They are using a backdoor to sneak through their agenda. Democrats and Progressives must be united to stop it."
DNC Chair Jaime Harrison: "Democrats in California and across the country are united against this partisan Republican recall. As governor, Gavin Newsom fights for Californians every single day. California families know who's in their corner, working to keep them safe during a global pandemic and ensuring they are getting on the road to recovery. While Governor Newsom has time and time again demonstrated the smart, capable, and focused leadership necessary to steer his state through unprecedented crises, Republicans have demonstrated that they are only focused on playing dangerous games to disrupt the critical work of the governor, and leaving taxpayers on the hook for this wasteful effort."
---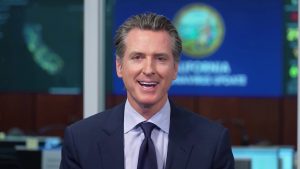 Click on picture to watch Video
Click on picture to watch Video
---
16 RESOLUTION 21-04.078
17 STOP THE REPUBLICAN RECALL OF GOVERNOR GAVIN NEWSOM
18 Whereas, the effort to recall Governor Newsom is a partisan power grab spearheaded by Donald
19 Trump's National Republican Party, the California Republican Party, and top Trump donors
20 advocating to overturn fair elections, having already worked to delegitimize the American
21 electoral process; and frivolously using California taxpayer dollars to fund this partisan ploy to
22 derail the progress Governor Newsom has made to save lives, provide a safety net for struggling
23 Californians as we are making significant strides returning our lives to normal; and
24 Whereas, the pro-recall ranks are filled with a coalition of anti-vaxxers, Q-Anon conspiracy
25 theorists, and militia groups whose aim is to disrupt and distract from California's progress on
26 COVID-19 recovery, equitable mass vaccinations, and school reopening's while their leaders
27 disseminate anti-vaccination and anti-immigration propaganda on social media sites, actively
28 work against public interest and advocate for the microchipping of immigrants, and
29 Whereas, by uniting, Democrats will prevent Trump's Republican Party from taking over the
30 California government and will stand united against any candidate who seeks the office and
31 helps Republicans succeed.
32 Therefore, Be It Resolved, that the California Democratic Party opposes the recall of Governor
33 Gavin Newsom.
34 Author(s): Rusty Hicks, CDP Chair, Alex Padilla, U.S. Senate
35 Sponsored By: Amador, Del Norte, Los Angeles, Kings, Madera, Marin, Mendocino, Mono, Napa,
36 Orange, Riverside, San Bernardino, Shasta, Siskiyou, Solano, and Yuba County Central
37 Committees, Regions 5,6,7,10, 12, 13, 15,16, and 17, Senior Caucus, Rio Hondo Democratic Club,
38 North Valley Democratic Club, Democrats of Rossmoor, Chicano Valley Democratic Club, Tri39 Counties Democratic Club, Victor Valley Democratic Club, Rio Hondo Democratic Club, North
40 Valley Democratic Club, Victoria Sanchez De Alba, AD 22, Carlos Alcala, AD 7, Hene Kelly, AD 19,
41 Omar Torres, AD 27, Ada Briceno, AD 65, Andrea Reyna, AD 24, Chelsea Bonini, AD 22, April
42 Vargas, AD 22, Dan Stegink, AD 22, Rudy Espinoza, AD 22, Sarah Souza, AD 17, Art Rodriguez,
43 AD 26, Igor Tregub, AD 15, Mari Pérez-Ruiz, AD 18, Raymond Larios, AD 22, Beatriz Valencia,
44 AD 68, Florice Hoffman, AD 68, Eugene Fields, AD 68, Deborah Cunningham Skurnik, AD 73,
45 Libby Frolichman, AD 72, Ken Wyant, AD 68, Anita Narayana, AD 73, Primo Castro, AD 55,
76
1 Cynthia Aguirre, AD 55, Melahat Rafiei, AD 68, Lauren Johnson Norris, AD 74, Lara Horgan, AD
2 74